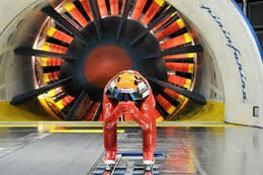 In 2006 when I started work in applied research TRE, Nobil Metal was the importer for Italy of the products Dentsply prosthetics and I had collaborated with this company since 2001, in 2002 Nobil Metal joined the international project of Dentsply about Eclipse, selling many systematics in Italy that had many technical problems, so they asked me if I was available to verify these issues, with the aim of resolving them. I accepted without enthusiasm, what I saw left me had quite puzzled, however, they sent me a system and I immediately started work. 
Let's say I had a valid reason to venture into this enterprise, it had been a long time that I had had serious allergy problems to methacrylate which created great discomfort even in my private life. The materials that I found instead to work with were completely devoid of monomer i.e. visible light cure and I could to work with them in an incredibly easy and precise way without compromising my health. The problems were different, but didn't come from the characteristics of the materials, that on the contrary, were outstanding,
the problems were related to the protocols that were calibrated for the US market and were not going well for the EU market, also the fields of application were limited to few applications. I understood in a short time that I was in front of incredible technology, that not only reduced the health risks for operators during machining and patients, relatively to the use of potentially dangerous devices, linked to the release of residual monomer, but also the operational phases were extremely simplified compared to those of traditional resins and composites, a complete revolution.                                  

I realized that this technology thanks of its enormous advantages could be used not only for removable prosthesis, and after changing the protocol on denture bases with excellent results, (which were presented and certified in York in 2010 at the site of Dentsply Prosthetics international), I thought that this technology could be used not only for removable, but in all areas where resins and composite were employed , so I asked a group of my colleagues specializing in fixed , implants prosthesis and orthodontics if they wanted to participate in the work of applied research that I had started on removable.
Also in this case we have been very successful, in fact, together we were able to expand the use of the system in all the processes in which resins and composites are used, integrating into the system other product lines, Triad, Radica that have the same base chemical Eclipse. From this experience a complete system of composite resins with applications in removable dentures, fixed, implant and orthodontics was born, which has nothing to do with the original one. Of Eclipse, we use only some materials with EU protocols and light curing EPU  2.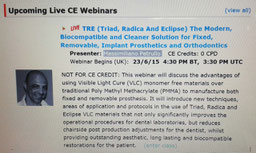 In 2012 I presented the complete system, philosophy and protocols in Hanau headquarters Degudent and UE Dentsply Prosthetics International, from that moment I started to collaborate with the group of international sales marketing Dentsply Prosthetics that has led me to present our work in the different international divisions of Degudent and Dentsply. After the great success in the international arena, we decided with a group of friends and colleagues: Marco Broglio, Enzo Borca, Fabio Ferrara, Franco Rinaldin, Raffaele Masci, Bruno Guida, Ottavio Somma who participated in the research program in these years , to create one new brand, so in 2016 after the tenth year of the start-up of the research TRE we have created the Bio System Tre.    
                                                                                                                                                        Massimiliano Petrullo
---